Homes are incomplete if you miss anything that improves the environment and look of any of your rooms. Rooms can be decorated with different unique and eye-catching decoration pieces but if the environment is not good then your décor would mean nothing. No matter how many windows you have designed in your house until you install ceiling fans in your house, it's going to look incomplete. They not only make your room look good but also improve the environment by providing cool air. Ceiling fans are equally important as anything in your room. It's an essential part of your room.
There are many different types of fans. Each fan has its importance and unique design. Having an understanding of each type of fan is very important because it will help you to select the right one according to their need. Let's discuss them step by step.
Standard Ceiling Fan
One of the most common fans is a standard ceiling fan. There come many colors in this type and this is one of the most essential things to decide when dealing with interior design. It is also available in different sizes. You need to consider the fan's size according to the size of your room. Just imagine having a large size fan in your small room will make it look even smaller. So choosing an appropriate size and style are equally important.
Direct Current Ceiling Fan
These fans are smart in looks and design and usually connect with Wi-Fi for smart function too. They are more energy efficient than others because of the motor installed in them. They don't cover much space in your room and make it look unique and wide. These fans are remote-controlled. You can also control the speed of your fan.
Ceiling Fans with Lights
Ceiling fans with lights are something very unique and can be used in two ways. Fans are used to improve the environment but fans with lights not only improve the air but also give you lights to illuminate your room. These are best for bedroom décor as well. This is another stylish and unique style of the ceiling fan. Lights are installed in the central part of the fan and make it look amazing.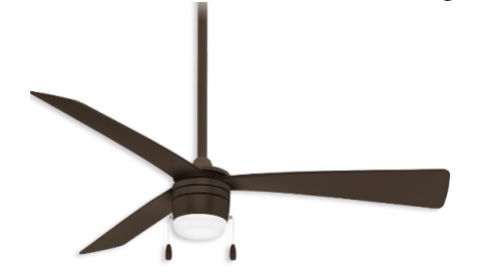 Low-profile Ceiling Fans
Low-profile ceiling fans are made for homes that are designed with low ceilings. These fans are specially designed for low ceilings as it doesn't cover much space and looks perfect in your room. It has a variety of ranges in style and sizes. You can choose according to your requirement. Moreover, it is safe for everyone standing or walking under these low-profile ceiling fans.
Outdoor Ceiling Fans
Outdoor ceiling Minka fans sometimes give you a completely cool breeze feel whenever you sit outside for an evening cup of tea. They are best in summer as it provides you with cool air and also make your environment comfortable by keeping the bugs away from your table. But what if you sit outside at night? No worries because now you can also use a ceiling fan with light as your outdoor ceiling fan. This will not only make you feel good but also give you subtle light.
AC Ceiling Fans
AC ceiling fans, or alternating current ceiling fans, are a more budget friendly alternative to buying a DC ceiling fan when initially purchased. Like DC ceiling fans, they operate in both summer and winter (reverse) modes. However, unlike DC ceiling fans they are not as energy efficient to use. Fans with AC motors typically use three to four times more power than a DC model, usually move less airflow, provide less variations of speeds, and are usually never as quiet as a DC fan motor
Coastal Ceiling Fans
Coastal ceiling fans are not really the way the fan is made, but rather a design style. Many refer to this style as "tropical ceiling fans". They are usually perfectly styled for homes built along the coast decorated in coastal décor. In many cases these fans will use tropical leaf shaped blades made of different materials ranging from solid wood to ABS plastic. Some even use natural palm or bamboo for blades, completing the perfectly designed coastal themed ceiling fan. Depending upon how much salty air gets inside of a coastal home, sometimes choosing an outdoor ceiling fan will be a good option, because it may help the finish to hold up better in the environment.
Ending Remarks,
Ceiling fans are an important part of every room because they enhance the room's look. You should have design knowledge when selecting your ceiling fans. Do not wait for long and you can order them online in best quality and budget. Buy them and make your room look more attractive and unique with stylish ceiling fans. Modern Fan Outlet has the best quality fans and give you fast service