Chips have become smaller and smaller as technology has advanced, with reduced power consumption, more functionality, and greater computing capability. All things may now be implanted into chips and linked to the Internet, laying the groundwork for the Internet of every thing. IoT-enabled smart offices are those that are outfitted with IoT devices linked to the internet. It symbolizes an intelligent ecosystem that monitors, controls, and manages diverse processes and work environments using a huge number of linked devices.
Why Need IoT in the Workplace?
Despite the fact that contemporary electronic equipment such as fax machines, PCs, and remote video terminals have already entered the workplace, and successfully enhancing office productivity, these office equipment function independently and are not connected to one another. They have not changed modern office issues like high expenses, multiple hardware management, low equipment utilization rate, and a lot of idle resources in essence. The introduction of IoT technology enables devices to engage with devices in the IoT smart office ecosystem, and makes things run quicker and more effectively, which is extremely valuable to any organizations.
The scalable IoT smart office solution, with the cloud platform computing data and Internet of Things technology at its core, employs various sensing devices to identify various types of information in the physical world, and connects various business systems and infrastructure into one organic whole, docking of various information between people and things, and between things and things. Overall control of the office spaces are completed by manipulating various data and realizing the interconnection, which contributes to create humanized workplaces with automated information management, enhanced safe environment, low-cost maintenance, and boosted productivity.
Typical Use Cases of IoT Offices
Save Energy Cost
IoT light sensors and human body sensors can automatically modify light brightness, air conditioner temperature, etc., based on current environmental circumstances, allowing electricity resources to be used more efficiently and eliminating waste. When employees forget to turn off lights and appliances when they leave the office, the IoT allows administrators to manage the switches remotely from anywhere at any time. Managers may also evaluate the entire energy use of the workplace area to prevent possible power and energy waste.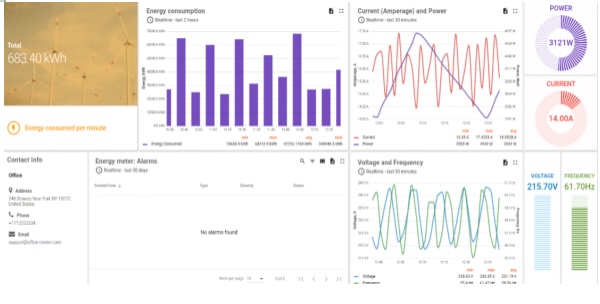 Air Quality Monitoring
It is feasible to precisely sense the air quality of the workplace space by placing environmental monitoring sensors such as temperature and humidity. Employees can adapt the workplace environment to their tastes when the interior temperature and humidity are uncomfortable or the carbon dioxide concentration is too high. Or when the indoor carbon dioxide, VOC concentration is too high, or the temperature and humidity are not appropriate, the APP can trigger the bad air quality alert to remind the administrator to make timely changes.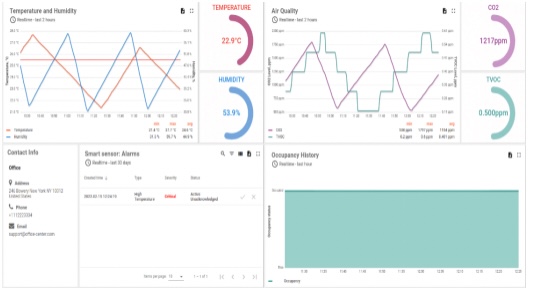 Office Asset Protection
The security of corporate assets is of great significance to the company, especially data center infrastructure housing a large amount of important data. Any water leakage might result in irreversible economic losses. By using water leakage sensors, the security of data center infrastructure can be monitored 7*24 hours a day, and the water leakage condition can be timely notified to minimize large losses.
Furthermore, the door magnetic sensor can be put on the company's doors and windows to monitor the clutch state of the doors and windows. When the doors and windows malfunction, an alarm is triggered to prevent property loss in the office and potential fire dangers.
Another popular asset management is indoor asset tracking using BLE beacon gateways and beacons, to monitor in any time whether your asset is the in office and in which room, alleviating workload of administrators to check asset an inventory.
Meeting Room Occupancy Monitoring
To effectively increase meeting room use ratio, each meeting room may be equipped with a space occupancy sensor that counts the number of persons in the meeting room in real time and grasps the occupancy of the meeting room. Simultaneously, the space occupancy sensor can be linked to the switch panels and thermostats to enable the function of automatically turning on the lights and air conditioners when people arrive and automatically turning off the lights and air conditioners when people leave, enabling efficient meeting room management.
Smart IoT Office Automation Solutions
The smart office solution employs IoT technology and perception gadgets to sense the required information in real time, and connects items to the Internet via possible network access methods for information exchange and communication. The pervasive connectivity between objects and people enables real-time tracking, monitoring, and administration of working spaces.
Smart Office IoT Platforms
ThingsBoard, for example, is a famous IoT platform for smart IoT offices. Users can use ThingsBoard gateways to seamlessly connect traditional sensors and Thingsboard platforms, quickly realize the collection and analysis of various data, and clearly know the status of devices turned on and energy consumption analysis and trends. The dashboard display can view the outcomes of IoT offices, which considerably decreases the complexity of deployment and operation.
IoT Sensor Devices for Offices
Environmental Monitoring Devices: yhe environmental monitoring devices incorporates a number of smart sensors that can measure temperature and humidity, personnel activity, light, carbon dioxide, air pressure, volatile organic compounds (TVOC). Environmental monitoring devices often include cell batteries that may be used for up to 1-3 years, lowering maintenance expenses.
Water Sensors: the water sensor detects the presence of water and reports the findings in real time, efficiently eliminating large losses due to water leakage. It is frequently used in computer rooms, basements, and other settings.
Door Sensors: the door sensor is an induction gadget that detects if doors, windows, drawers, and other objects are being opened or moved unlawfully. It has a wide range of applications, including smart workplaces, unmanned retail, smart homes, and other places.
Smart Switch Panels
Through the Internet of Things platforms, smart switch panels can be remotely inked and controlled to realize various automation scenes.
Indoor IoT Gateways
Indoor IoT gateways often use Zigbee, Z-Wave, and Bluetooth Low Energy protocols, which are interoperable with numerous brands of office devices at the same time. They also acts as smart office hub to universally collect data from all sensors and actuators, and relay commands from IoT platforms, to realize remote and linkage control. To keep office neat, cable-free PoE Zigbee gateway is usually the top priority choices for most office administrators.
ROI of IoT Office Solutions
Despite the apparent benefits of IoT in the workplace, many business owners are still hesitant to engage in IoT in the office, with the most common argument being cost. The cost of new technology must be higher than the cost of traditional technology; however, by connecting devices and office management systems together, it can make the working environment more comfortable, help employees improve work efficiency, attracting and retaining outstanding talents; at the same time, it can improve energy saving and emission reduction in office space, reducing water and electricity expenses; and it also allows business owners to grasp the operation and maintenance status of offices, adds up to safer, more efficient operations, leading to a greater return on investment.
Final Words
The application scenarios of smart office are still developing, and more smart scenarios will be conveyed in the future, thanks to the rapid growth of IoT technology. For the time being, smart offices provide unparalleled benefits in terms of lowering company running expenses and increasing the value of office assets, therefore smart offices will undoubtedly become the norm in modern offices.