Thousands of individuals now choose VanceAI whenever they need to edit pictures. It has already created over a dozen super-efficient editing devices that can accomplish anything with a single click.
The business has introduced VanceAI PC for PC users, which performs three essential functions: photo enlargement, image sharpening, and image denoising. With these features, you may effortlessly improve the quality of any unsatisfactory image.
Interested in learning more about this AI software for PC? Then remain until the finish.
What is VanceAI PC?
PCs are typically used for photo editing. The issue, though, is that PC editing tools are sophisticated and time-consuming.
To your relief, VanceAI has released AI image upscaling software, VanceAI PC, that is incredibly user-friendly. This software allows you to upscale, sharpen, and denoise photographs with a single click. In addition, its processing speed is quite rapid, and editing will take less than five seconds.
Let's examine the attributes.
VanceAI PC Features
VanceAI PC has the following superior features:
This AI software for PC may enhance images by a factor of up to 40. (40 times).
It also improves clarity by eliminating all types of haziness (motion, softness, lens, etc.).
If any noises or grains are present, this VanceAI software will eliminate them.
The AI algorithms are extraordinarily successful at boosting the visual quality by adding pixels and intensifying hues.
It concentrates on the face and enhances detail.
This AI software for PCs can effortlessly process complex photos.
Let's check the Pros and Cons:
Easy to use
Free download
Removes blurs
Upscale up to 40x.
Fast processing speed
User authentication requires internet connectivity
Review of VanceAI PC
Everyone has complimented VanceAI PC for its user-friendly interface, quick speed, and ability to quickly boost photo quality. When you download and activate this AI software for PC, you are presented with three alternatives. These possibilities are in reality services that I am now evaluating.
VanceAI Image Upscaler: Enlarge Images without Loss of Pixels
If you wish to enlarge images or increase image resolution, run VanceAI PC and select Enlarge or VanceAI Image Upscaler. This image upscaler can successfully upscale any image without sacrificing quality or pixels, which is why I recommend it for AI image upscaling (unlike many other tools).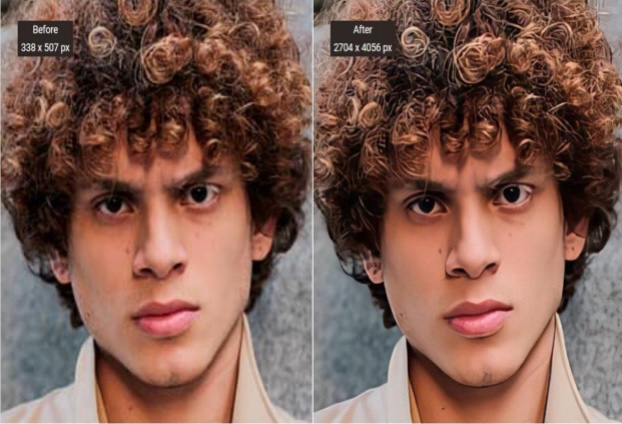 Why then is there no quality degradation when using this VanceAI Image Upscaler?
Well, VanceAI employs potent AI and Deep learning to ensure that the entire upscaling process runs without hitches. With the image upscaler, there is no pixelation or blockiness even when the image is improved by 800 percent.
The highlight? The whole process is completely automatic. You are not need to push the keyboard's keys or closely monitor the entire operation. Simply upload the image and let the VanceAI Software perform online AI Image Upscaling.
Here is an image that VanceAI Image Upscaler has enhanced:
VanceAI Image Sharpener: One-Click Image Sharpening
Common causes of blurred photos include shaky hands, faulty lenses, and other factors. No matter how it occurs, VanceAI Image Sharpener will eliminate it and enhance the image's visual clarity.
However, why is it so effective?
You may have already figured that it is AI algorithms.
AI eliminates blurriness, eliminates artifacts, improves the image's color, and accentuates facial details.
Examine the image sharpened using the image sharpener: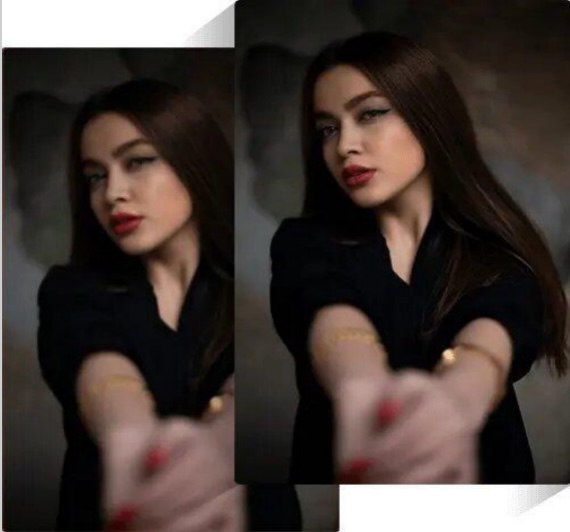 VanceAI Image Denoiser: Online Image Denoising
We are all aware that noise and grain completely degrade a photograph. People believe that the image should be destroyed because it serves no use. Fortunately, we now have VanceAI Image Denoiser, which can easily resolve this noise issue.
It is powered by deep learning, which enables it to handle grains and produce images with razor-sharp clarity. People also appreciate how simple image denoiser is to use. One click is all that is required. There is no need to use brushes or do difficult tasks.
Here is an example of VanceAI Image Denoiser at work: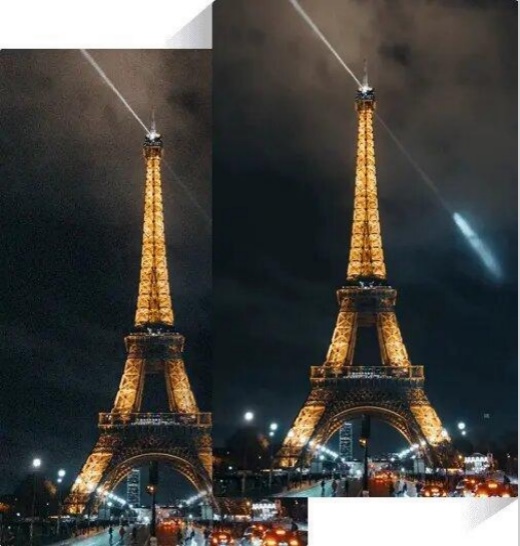 Guide to Use VanceAI PC
As stated previously, this VanceAI program is extremely simple to use, requiring only three basic steps. Consider Image Upscaler as an illustration.
To upscale an AI Image with VanceAI PC, follow these steps:
Step 1: Download and install the VanceAI PC software from the official website.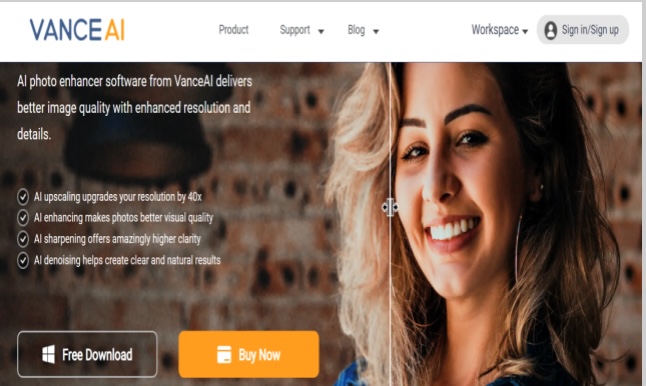 Step 2: Upon launching this VanceAI software, the Enlarge, Denoise, and Sharpen options will be displayed. Click "Enlarge" to upscale image.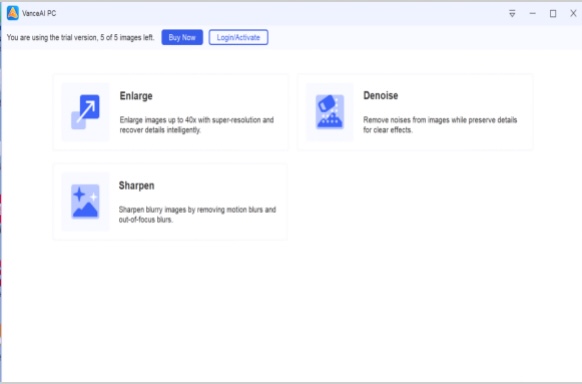 Step 3: Add the image by clicking the Plus sign or dragging it there. Adjust the settings and then initiate the processing. A few seconds later, the Image will be expanded. So simple is a VanceAI Desktop Client.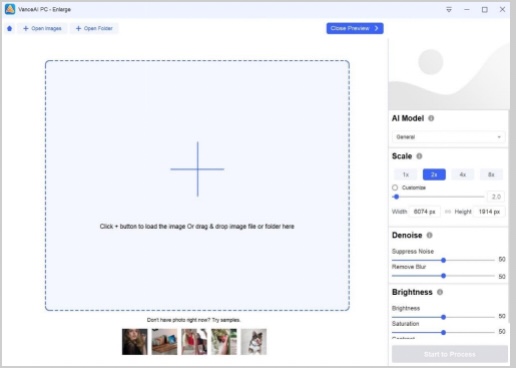 Conclusion
The VanceAI PC software should be installed on all desktops and laptops. Because you will constantly feel compelled to utilize it anytime you wish to boost the resolution of an image to HD. This VanceAI software can effortlessly enhance, denoise, and deblur images. Not limited to enhancement, denoising or sharpening tools, VanceAI PC continues to launch more tools like photo restorer that focuses on restoring old photos.
Therefore, download it and modify with ease!
FAQs
What can I do with BGremover?
BGremover is another product by VanceAI that can remove the background of any photograph in five seconds. The AI will identify the primary subject or person in the image and remove all background elements. Additionally, it provides backdrop options that can be added to the image you just altered.
What is VanceAI Anime Upscaler?
The VanceAI Anime Upscaler can increase the resolution of an anime video by a factor of 2x, 4x, or 8x. This artificial intelligence anime upscaler is based on Waifu2x technology and offers high-resolution wallpapers, posters, and waifu images. Further, you can use VanceAI PC to improve your waifu on a computer. If you're worried about people sharing tiny, low-quality anime memes online, the simplest way to quickly upgrade 480p anime images to super HD or 4k is to use the Waifu2x-based anime upscaler.