Due to the advancements in photo editing software, it is now feasible to restore old photos that have been damaged over time. AI old photo restoration techniques have made it possible for individuals to restore their old photographs without having to put in a lot of effort. One such tool is VanceAI Photo Restorer, which is an AI-based photo restoration tool that can clean up old, damaged photos automatically.
This software can be used for personal or business purposes, and it can bring old photos back to life by making them look cleaner and sharper. In this review, we will evaluate the effectiveness of VanceAI Photo Restorer and determine whether it is a valuable tool to use.
Why Choose an AI Based Photo Restorer?
Although software applications like Photoshop can effectively enhance old photos, many users seek alternative options for various reasons. While such software can deliver great results, users must be familiar with the program's features and functions to use it effectively. This is because many photo editing applications, including Photoshop, are designed to offer multiple tools and techniques for old photo restoration. Without knowledge of the application's features, users may find it difficult to navigate and utilize the appropriate tools. In contrast, website-based photo restorer apps such as VanceAI.com operate differently and offer a simpler alternative for photo restoration online.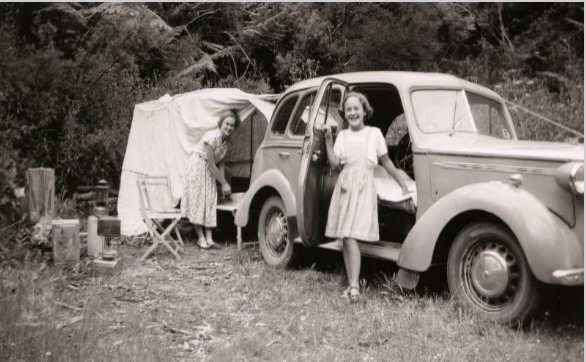 Image Credit: Unsplash
VanceAI is an online photo restoration application that utilizes AI and relevant algorithms for editing and enhancing photos. Most of the tools available on this platform are designed to operate automatically without requiring user input, and they offer customization options in the Workspace for user preference. The quality of the output depends on the quality of the AI algorithm used. However, beginners can save time and effort by using VanceAI or similar online applications. As AI in photo editing continues to improve, platforms that offer excellent features alongside AI are likely to be more effective.
VanceAI's automatic image processing capabilities allow users to achieve quick results without having to spend a significant amount of time editing their photos. By simply uploading their old or damaged images to the platform, users can restore and enhance their photos with just a few clicks.
How to Restore Old Photos with VanceAI Photo Restorer?
Follow the steps to do photo repair for your images online with the AI Photo Restorer tool.
Step 1: The first step is to follow the link provided above to access the main page of the VanceAI Photo Restorer tool. The page provides information about the tool and displays examples. To proceed, click on the "Upload Image" button.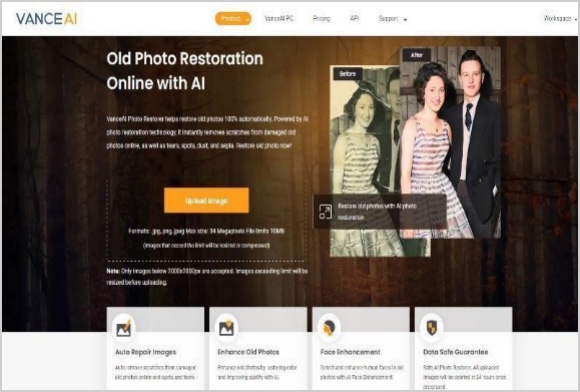 Image Credit: VanceAI
Step 2: VanceAI Restorer Workspace will open in a new window. Here, you can upload your images and set preferences if desired. Once you have uploaded your image and made any necessary adjustments, click on "Start to Process" to initiate the photo restoration process. Additionally, you can view your remaining image credits, switch between VanceAI tools, and access other options on this page.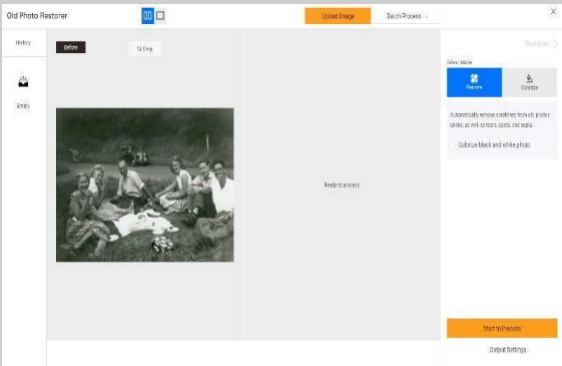 Image Credit: VanceAI
Step 3: After a few seconds, the restored image will appear on the screen. You can then use the "Download Image" option to save the image to your device.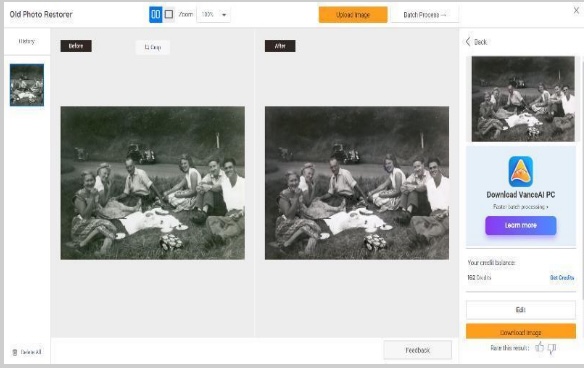 Image Credit: VanceAI
Photo Restoration with VanceAI Photo Restorer (Examples)
We will now see a few examples of how well the tool restores or enhances old damaged photos.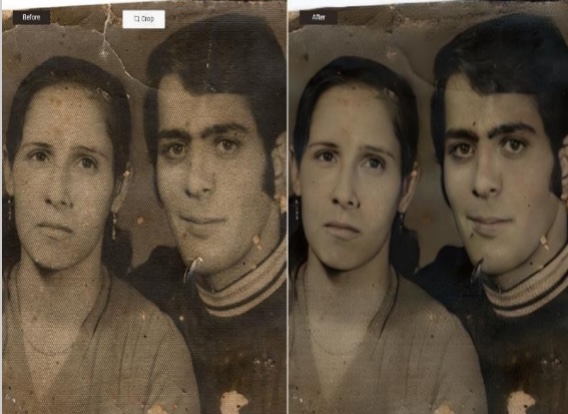 Image Credit: VanceAI
Within a matter of seconds, the online photo restorer tool greatly improves the quality of a family photo. The "Before" image has a brown tint that gives it an outdated look, which is remedied by the tool through a simple color tone adjustment. The face enhancement feature of the tool is particularly effective, resulting in sharper, clearer faces in the "After" image. As we can see from the example image, you can remove scratches from old photos online and image noise easily. There is a significant reduction in image noise, which adds to the sharpness of the image.
2. Old Friends Photo Enhanced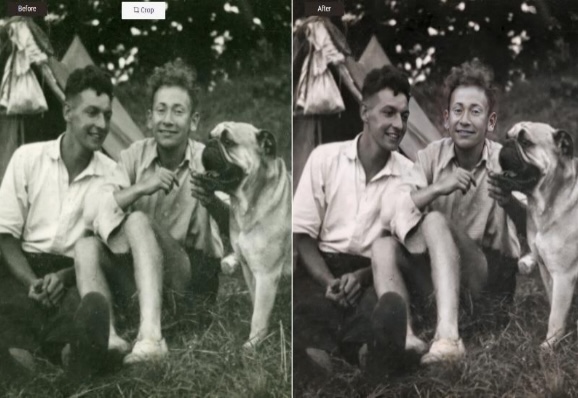 Image Credit: VanceAI
The old photo restoration tool used on this particular image has improved many aspects of the photo, although there is still room for further enhancement. Notably, the tool has effectively improved the details of the portrait, which is particularly evident when examining the facial features of the image closely. However, there is still a presence of image noise that is noticeable in the image and the complete shift of color tone would not be welcomed by all users.
3. Old Photo Colorized and Enhanced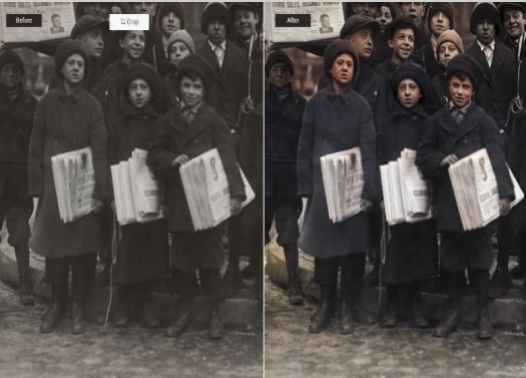 Image Credit: VanceAI
VanceAI Photo Restorer is an AI-powered tool that uses advanced algorithms to repair and restore old or damaged photos. It can not only remove scratches, stains, and other blemishes from old photos but also add color to black and white photos to give them a new, vibrant look.
The colorization feature of VanceAI Photo Restorer is particularly useful for restoring old family photos that are black and white. By adding color to the photo, you can bring the past to life and see the details that were not visible before.
Conclusion
VanceAI Photo Restorer is a highly reliable tool that is perfect for restoring damaged old photos of any type. The unique aspect of this tool is that it is available on the VanceAI platform, which offers a range of additional benefits. For example, users can also use the platform's photo colorization feature to restore and add color to old photos simultaneously. The platform is available for just $4.95 per month and includes 100 image credits, as well as exclusive features like batch processing, which boosts productivity. Users can also purchase more image credits for a higher price if needed. VanceAI is committed to making its platform accessible, which is crucial for photo editing. To this end, they offer VanceAI PC, which brings the primary VanceAI tools to desktop computers.
Additional Choices from VanceAI
VanceAI provides a plethora of photo editing tools that you can utilize in conjunction with their old photo restoration tool to achieve even more impressive results. The platform boasts more than 15 tools, and they continually introduce new ones. By combining VanceAI Photo Restorer with VanceAI Photo Colorizer tool, you can restore and colorize old photos simultaneously. Similarly, the quality of damaged old photos can be improved by using VanceAI Image Enhancer tool. In addition, VanceAI also offers a website-based PDF processing tool that is free to use. To access this feature, simply visit VancePDF.com.
Free Alternative to VanceAI
VanceAI provides several alternative options to their primary tools, such as the old photo restoration tool. One of these alternatives can be found by visiting photorestoration.ai. However, although the alternative options are free to use, they do not offer the same exclusive features or user interface design as the original VanceAI tools.