Valentine's day is one of a kind for each one of us who wants to celebrate love in a different way. Some of us go on dates while others spend quality time with loved ones at home. Apart from celebrating the day with good company and good food, we also get the desire to look good and stylish. But for busy people like college goers, the professionals who get little or no time to get ready for such occasions, this blog may help curb the problem to some extent.
Since hairstyle is one of the most noticeable factor for any given occasion, it is important for us to get a hairdo even though we are not doing much with makeup or putting on a glamorous dress as such. The hair can bring about a big change to your look and you must wonder how can you arrange a last-minute hairdo looking fine as ever. Let us step in to the rescue and present you few of the easiest yet amazing hairstyles that you can do at the 11th hour and look gorgeous as much.
High ponytail with straightened hair
Wanting to look amazing but you know that your hair is not ready to be set free? Just tie your hair up, but with a twist! It doesn't take much time and is a quick last moment amazing hairdo. Straighten your hair nice, then flip your head upside down and began gathering as much hair as you can, once you get hold of all the hair, grip it right at the centre and flip your head up tie it tight with a band. Use a small toothed comb to smooth out the bumps here and there, and to keep hair in place.
Low Bun
This has to be one of the classiest hairstyles that is quick to achieve. You only need a rubber band for this hairdo and a curler. Make a bun on the lower part. Take small sections of your hair and get two thin hair strands out in the front on either side. Curl it with a chopstick hair curler. This creates a natural and dreamy flowy look. To add some extra drama to the look, add some floral clips, or pearl beads that are easily available in the market. 
Just Straighten It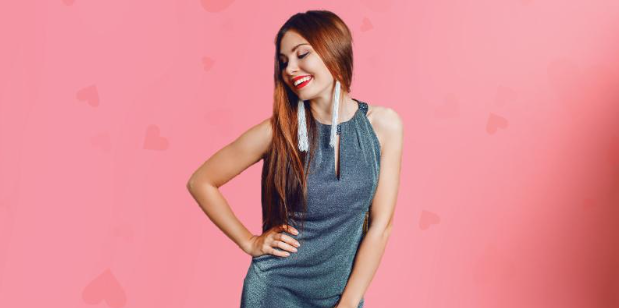 This has to be the one that anyone can pull off. Our best pick for a last moment chic hairstyle for Valentine's day. All you need is hair straightener, and of course the technique to straighten. Divide your hair in few sections according to the thickness and volume of your hair. Take a strand of hair and put it between the straightening plates, then go down the strand and follow the same for other section of hair. Get simple yet classy straight hair in just few minutes!
The Princess Side Wrap Braid
Blow dry your hair and use a hot curl brush to add some soft curls. Next, pick a side of your hair you want to get a braid on. Start braiding that side till you reach the nape of your neck, then pin the end of the braid underneath the rest of the open hair. Loosen up the braid a little to give it a fuller appearance. Get a look straight from the folklores with this iconic hairstyle in no time. 
Pick you favorite style and slay this Valentine's Day!