Virtual Conferences are becoming a main part of the event industry, especially in pandemic times, to host a professional Virtual conference the best tool is needed to ensure success. Video plays a significant role in the success or failure of any virtual conference. 
By using a pre-recorded video host can enhance the audience's attention and it can also improve the conference experience. But these benefits could only be attained by using the right video created by an excellent tool. It has been observed that animated videos are more memorable and interesting to watch.
Doratoon: An Efficient Video Maker
To create an outstanding video for your virtual meeting you must need an efficient tool such as Doratoon. It is an online working service that works without demanding any charges. Its high working speed is a key attribute that saves you a lot of time.
Doratoon is a complete animated video maker that enables users to create eye-catching and appealing animated videos. It is an awesome video maker online toolbox that provides options of almost 8000 cartoon characters and all the cartoon characters have real call expressions and gestures.
Additionally, it also provides advanced tools to the users such as artificial intelligence debugging and options to enable the characters to talk like humans. So it can be used by children or adults to make stunning animated videos. It is advised to visit Doratoon's official website to visit its remarkable templates. 
Its huge collection of cartoon characters and stylish design make it the best option where you don't need to use any other tool to perform another task. It works to maximize the ease of the user and productivity level by reducing the time taken to perform a task. 
One of the main advantages of using Doratoon is that it fits every situation for every purpose. Its versatile nature makes it available for all fields. It works best to create an animated video lecture or to create an animated business presentation. 
How can Doratoone improve virtual conferences?
Doratoon is an excellent online video editor and maker that lets the user not only create the video but also customize it by using its tools in animation.  It works best as a communication bridge where a long story can be displayed in a few minutes with a better visualization. There are alot of features that Doratoon hold some of them are described below : 
Editing tools in animation 
Most of the video makers do not provide options to customize your created videos but Doratoon contains up-to-date editing tools that take your normal video to a High level. After creating a video it can be customized again and again by using Doratoon editing tools. Which also makes it easy to resolve any spelling or grammatical errors easily. 
Efficiency and high productivity 
It provides many up-to-date tools that make your video unique and eye-catching. For instance, its ppt to video conversion tool makes your presentation interesting and memorable. Additionally, it also provides a high productivity rate because of its high working speed where you just have to input a few minutes to get an outstanding video. 
In virtual meetings, it is needed for the time to summarize the things in such a way where the whole of the concept can be delivered without boring the audience. Doratoon's tools and templates are designed in such a way to ease the user to display all the content most simply and professionally. 
Free cloud storage capacity
Doratoon provides 500MB free storage to all of its users so at the end of doing the task the video can be saved easily without paying any charges. This is a unique benefit that can not be given by any other online video-making service. 
For the ease of users, Doratoon has designed to make a friendly relationship with its customers. It seems a very difficult task to do video editing for any virtual conference but you must have to visit Doratoon's official website to see how easy it can be. 
Support all types of browsers 
Another advantage of using Doratoon is that you can use any type of browser to access its services. It can let you create and edit animations online without any hurdles. Long story short it could be the best choice for making videos for virtual conferences. 
Specifications and tools of Doratoon 
Following some options are discussed that Doratoon is providing to its users and a person can use them to create an eye-catching video more likely to be presented in a virtual conference: 
Doratoon provides subtitles additional facility to its users to enhance the relatability of your video with the topic. This option can make your video more understandable to the audience and also enhance its worth.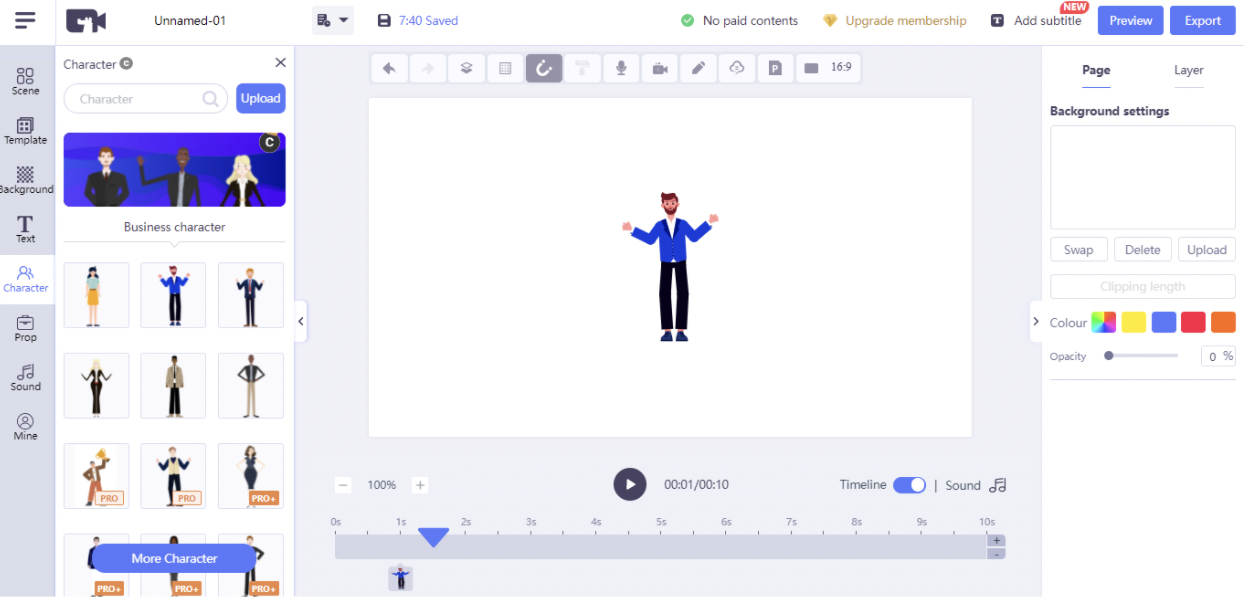 For an excellent animation, it provides you with a huge collection of different cartoon characters. The website offers more than 8000 cartoon characters that can be used according to the demand of time and topic.  
By using the adsorption option You can align your content text easily with the guidance of Doratoon. It also reduces the chance of any errors occurring. Suggestions are given in the form of gridlines. 
By using dubbing features Doratoon enables the users to add text into the video by inputting their voices and the rest will be managed by the Website. It's a great option where you don't need to put in much of your effort and time while making the videos. 
This feature permits the addition of sound into the videos. On the website a lot of sounds are available that can be chosen or it also provides the option to add your favorite sound by uploading the sound file. Other than this you can also input your own voice by recording it. 
This is an excellent feature that lets the users convert their presentation slides into videos. The whole of the ppt can be converted into a video or some slides can also be added to any other video.
Doratoon also provides the option of highlighting key points on the videos to make them more understandable. For understanding, it is suggested to visit their official website and perform the task of cost.
 Ending Remarks 
In the Pandemic time, Virtual conferences are needed. To ensure the success of video presentation a remarkable video maker like Doratoon is gems in hand. Its features and advanced tools make it best to be used for official purposes where fewer errors are estimated. 
Creating an animated video by using Doratoon is a very easy task because of its user-friendly interface and free availability of all the services. It is advised to visit their official website to know more about it.