Editing PDF files for some people can become a nightmare if they are using tools that are not intuitive or user-friendly. In this era of technology, no one has the time to spend hours just editing a PDF. People want tools that are not only user-friendly but also inexpensive.
There are many different PDF editors available out there, but most of them are paid version for editing. If you are looking for a PDF editor without any limitations, you're in the right place. In this blog, we will discuss the best PDF freeeditor – UPDF, and will walk you through the easiest way to edit your PDF files.
UPDF – Free PDF Editor without Limitations
UPDF by Superace Software Technologies is the best PDF editor released in 2022 for all your PDF-related needs. It lets you Edit PDFs effortlessly. It is all possible to change your fonts, adjust the layout, or even alter the color with UPDF. Here are some key features.
You can edit the text, adjust the font, or add images to any PDF file.
UPDF has a built-in security system to keep your files safe and sound.
It allows you to annotate PDF file, such as adding highlight, underline, notes, shapes, etc.
You can add or edit images in PDF files with UPDF.
View and organize PDF Pages with this free PDF editor.
UPDF does not have these features only but a number of other features to do your work quickly and seamlessly.
It has an intuitive UI for less confusion.
It is easy to learn and easy to start with UPDF.
Available for both Mac and Windows.
100 % free to use.
Safe from counterattacks by hackers.
You can share documents with clients and colleagues.
How to Edit PDF File with UPDF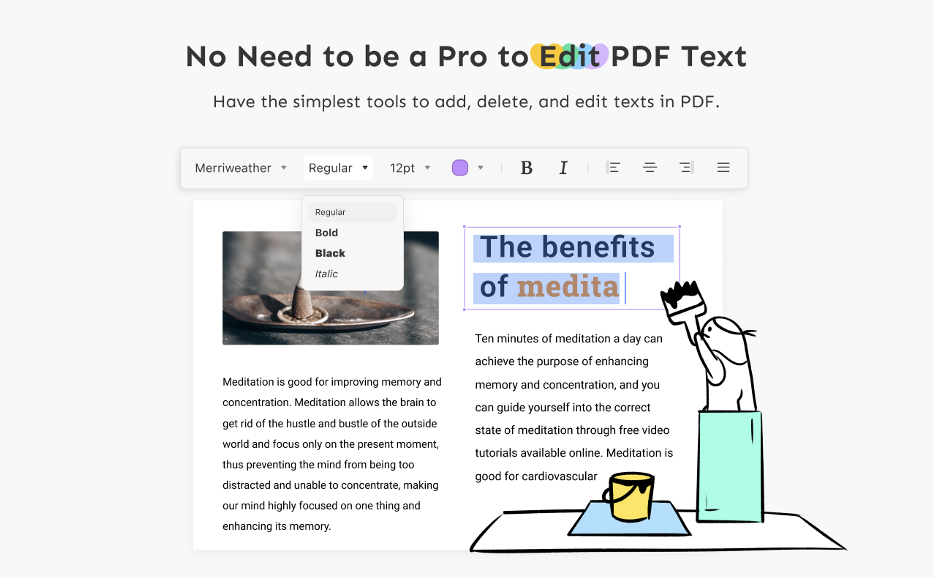 1.   Launch UPDF and Open PDF with it
First of all, you need to download UPDF for Mac on your device and then upload your PDF document into this program.
2.   Edit text in PDF Document
To edit the text in a PDF document, click the "Edit" icon on the top center menu. Now you can edit the text easily. The text properties you can edit include text font, size, color, bold, italic, etc. Editing text in UPDF is as easy as editing in MS Word.
3.   Add or Delete PDF Text
With UPDF, you can not only edit the existing text but add or delete PDF text too. To do that, you will see the "+Text"icon on the toolbar. Click on that icon and you can add new text to the PDF. Also, you can customize the text style too.
4.   Edit Image in PDF
Another cool feature of UPDF enables you to edit images too. To edit an image in a PDF, select the image you want to edit and you will see several options to proceed. You can easily crop, rotate, extract, and replace the image as you desire. Save the changes once done editing.
5.   Add or Remove the Image in a PDF
You can also add or remove images in PDF with UPDF. Simply upload the image from your device you want to add to your PDF and you are ready to go. You can also edit that image afterward. Moreover, you can also remove any image you want from your PDF document.
Why You Choose UPDF to Edit PDF?
You might be thinking of using Adobe Acrobat to edit PDFs but let me tell you why you need UPDF to edit PDFs. Acrobat has been the most common PDF editor for many years. However, it may not be the proper PDF editor and has its cons. One of the biggest drawbacks of using Acrobat is its price tag. For a simple task such as editing PDFs, Acrobat can cost you a lot.
On the other hand, UPDF is 100% free to use. Yes! You heard it right. That means you do not have to spend a single penny to edit PDFs with ease. Also, UPDF has a more delightful interface than other PDF software in market. More importantly, its stable performance and simple interaction making PDF editing and annotation easier.
Wrapping up
In this blog, we not only taught you to edit PDFs with the best free PDF editor but also mentioned how UPDF is better than other PDF editors. Creators at UPDF, care about your money and time. Therefore, they have created a completely free PDF editor that is light on your pocket and can save your time in this busy era. Try UPDF today for free.