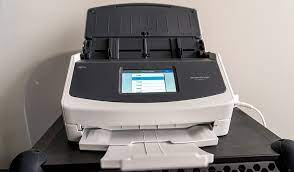 Home and small office scanners have come a long way. New machines like the Fujitsu ScanSnap iX1600 put convenience, speed, and improved functionality within easy reach. It's a popular document imaging solution for several reasons: accuracy, ease of use, customization, and versatility. Keep reading to learn how the iX1600 can significantly improve your workflows.
Robust and Versatile
The ScanSnap iX1600 is powerful and speedy. Equipped with a 50-page automatic document feeder, it can scan up to 40 pages per minute in automatic mode. Its front exit tray can extend out when in use, which avoids taking up desk space while keeping your scans organized. It supports paper sizes up to 11 x 17 inches and items up to 0.76 millimeters thick via manual front feed mode. On duplex mode, it can scan sheets up to 8.5 x 14 inches plus long page documents up to 9.8 inches.
With the iX1600, you can scan and save a wide range of files. Supported formats include MS Word, Excel, and PowerPoint along with JPEGs for images and searchable PDFs. ScanSnap also images standard documents, photos, business cards, ID cards, booklets, and pamphlets.
One-Touch Scanning
One-Button scanning is a central feature of the iX1600. Thanks to Fujitsu's ScanSnap software, you can set up custom profiles for scanning to your email, a printer, desktop or laptop computers plus define preferred settings such as resolution, color mode, and file format. The iX1600 simplifies document imaging with just a tap on its easy-to-read color touchscreen. Compare this with many all-in-one printer-scanner machines, which require detailed instructions for how to scan a document.
Scan-To-Cloud
As if One-Touch scanning weren't enough, the iX1600 also lets you scan directly to your cloud storage. Its ScanSnap Home app license comes with a free ScanSnap Cloud account. This provides you with document and photo management options along with connections to popular services such as DropBox, Evernote, Google Drive, Google Photos, and OneDrive.
With the iX600's Scan-To-Cloud functionality, you don't need your laptop, desktop PC, or mobile device to save files. You can scan and save your files in the same supported formats. Also, ScanSnap Cloud works with your custom profiles so you can send your documents wherever you like.
Small and Powerful
Gone are the days of big and bulky scanners. The ScanSnap iX1600 measures 11.5 by 6.3 by 6.0 inches, occupying less space table or desk space than an average sheet of paper. It also supports WiFi 2.4 GHz and 5 GHz 802.11a/b/g/n/ac protocols as well as USB-B 1.1, 2.0, and 3.2, making it accessible to users in your workspace. The iX1600 comes with a dual-voltage AC 100 to 240 V adapter, allowing you to set up any place with available power.
Scanning with the Fujitsu ScanSnap iX1600 is fast, efficient, and convenient. Space-challenged home office users benefit from its small footprint and extensive scanning capabilities. This feature-packed machine is a must for simplifying workflows. Other options include the ScanSnap iX1300, which incorporates the same technologies into a lightweight portable construction.